MODULAR CONSTRUCTION
For years, traditional construction has battled increasing costs for construction, serious labor shortages that pushing projects well beyond budgets and lowering returns for investors in projects across the country. Our Firm specializes in Modular construction as a unique solution and the future of modern construction because saves time, money and labor. Our Investors have a unique competitive edge in their investments by having our projects ready for market by an average of 12 months sooner than traditional stick construction methods.
Modular Construction is the process of designing and fabricating buildings off-site in manufacturing facilities, then shipping them in pieces to the building site for assembly. By using prefabricated methods, we can complete large scale, multi-story buildings between 40% to 50% faster, increasing profitability with improved speed to market and reducing labor and other costs by up to 20% or more.
Volumetric modular construction also reduces waste and site environmental impact while significantly increasing quality standards.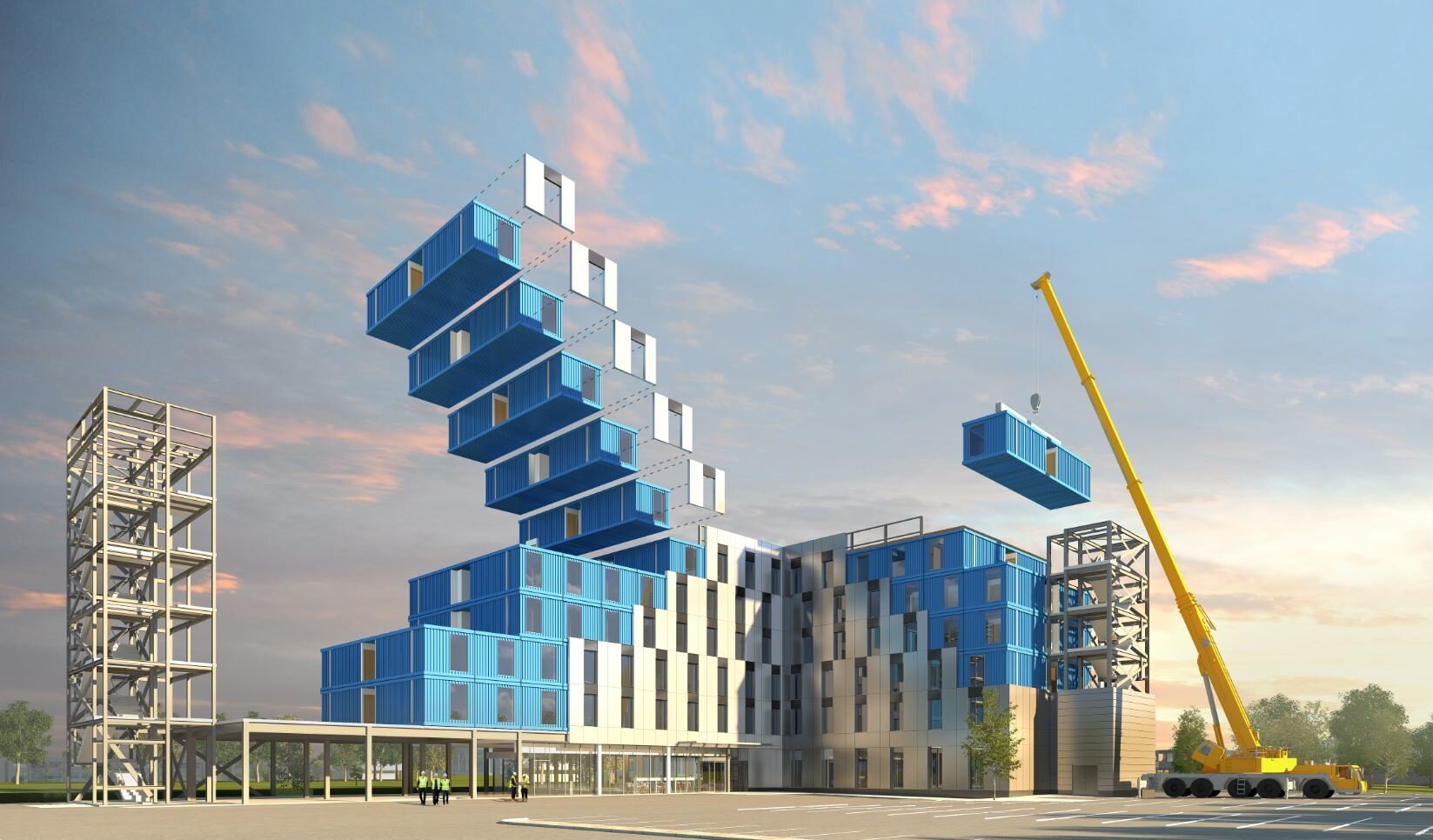 The future of Ground Up Development that saves times, is safer and built with better quality.
CAPITAL PRESERVATION
Bluestone Capital strives to preserve investor capital through investment focus, execution, and risk management. In addition to the stability and downside protection afforded by a portfolio of multifamily housing properties located in under-appreciated areas of Los Angeles.
INVESTMENT STRATEGY
Our Fund focuses on intrinsic real estate value that translates into long term cash flow and immediate value enhancement. We target assets within coastal cities in Los Angeles and Orange County as well as strategic neighborhoods within Los Angeles, East Hollywood, as well as East & South Los Angeles.
Fund will emphasize a long-term hold strategy with a strategic market focus backed by strong fundamental analysis of economics, demographics, and local supply and demand conditions.
Multifamily property portfolios have been among the most easily sellable investments within commercial real estate as demand from large institutional investors (REITs, private equity, sovereign wealth...) has been consistently strong.

Our Fund is focusing on one of the strongest metropolitan areas ("MSAs") in all of the Opportunity Zone Program where demographic and employment trends are above national averages and multifamily properties are performing exceptionally.

Risk management is an integral part of Bluestone Capital QOF's management processes.

A significant additional stabilizing factor for investors in the Fund is the 10% - 15% expected average annual income yield which projects over 110% return of invested capital from yield alone (including enough cashflow projected to be paid by 2026 to cover the deferred tax when it is due), all of which is projected to be shielded from income taxes on a current basis by the passing through of annual depreciation.
IMPACT INVESTING
We believe in leading a charge of socially responsible and impact investing in a way that creates positive change in the areas we have strategically identified. Using the latest data analytics and heat mapping tools that have tracked the development in Los Angeles county for the past 10 years, we focus on under appreciated areas that are adjacent or near recently developed prime areas. By creating new Multi-Family ground-up development and adding more housing units, we are addressing one of the biggest issues facing the state of California, but more importantly revitalizing distressed communities. This hyper-focus strategy will create a pathway of other equitable and inclusive investments, such as new businesses that will create more jobs that will create sustainable economies in these second-tier markets.
Our Fund's focus is directed at the housing deficit in California that is currently estimated around 3.5 million homes. More specifically, according to the organization's annual Housing Needs Assessment, Los Angeles County has a current shortfall of 516,946 affordable rental units.
LOS ANGELES HOUSING SHORTAGE
LA County is home to approximately 750,000 renter households whose incomes meet the very low- and extremely low- thresholds - meaning at or below 50 and 30 percent of the area median income, respectively. However, this population is served by less than 250,000 units catering to those income levels.
Lower-income households have been disproportionately affected, with 91 percent of extremely low-income households considered "cost burdened," and 79 percent considered "severely cost-burdened." The median rent for the county now stands at $2,471 per month - a level that is affordable to someone earning a minimum of $47.53 per hour.
The median asking rent for apartments in Los Angeles is just under $2,500 per month—more than the $2,297 you'd earn working a full-time job paying the county's minimum wage of $13.25 per hour.
That leaves families to settle for lower priced units, though even these can eat up a significant portion of renters' monthly earnings. According to the report, more than half of low-income renters are cost burdened, meaning they spend more than 30 percent of income on rent.
Compounding the problem is a dramatic reduction in state and federal funding for affordable housing production since the Great Recession. In 2008, Los Angeles County received more than $700 million for affordable housing in the form of state and federal grants and money brought in through LA's now-shuttered Community Redevelopment Association.

Los Angeles has remained a growing City since its inception – a rare feat amongst large cities in America. Despite continued growth, the City's population grew more slowly during the last decade than it has in the City's history. In fact, the previous decade marks the first time in 110 years that the City's growth did not equal at least 100,000 over a 10-year period. The population slowdown is believed to have occurred mostly during the middle of the decade (2004-2007), when the City actually lost population. From 2000 to 2010, the population increased just 2.6%, compared to 6% during the 1990s and 17.5% during the 1980s (Chart 1.1). The growth rate is much slower than the State of California's (10%) and slightly below Los Angeles County's (3.1%). The 2010 population figure of 3,792,6212 is well below the City's estimated projection of 3,957,900 from just 20053 . The official California Department of Finance estimate for the City's population on January 1, 2012 is 3,825,297. Growth is expected to increase by over 140,000 by the end of the Housing Element Update planning period in 2021, with an expected population of 3,965,433 by September 30, 20214 . This would represent a 4.6% growth rate from 2010. Los Angeles is expected to grow to 4,320,600 by 20355 . Compared to the five-county Southern California region, the population of Los Angeles represents an increasingly smaller proportion of regional population, comprising 21.2% of the region, versus 24.7% in 2000. However, the growth rate of the City mostly kept pace with Los Angeles County (2.6% versus 3.1%), something that is rare for cities. Within the City, the fastest growing areas are the North Valley and South Los Angeles (7.4% and 5.1% growth respectively), followed by the South Valley (3.5%). In fact, over 70% of the total population growth occurred in the San Fernando Valley. Growth declined in both the Central and East Los Angeles areas.
Last year, one of the most active development years in a decade nearly, Los Angeles still fell well short of what it would need to even catch up on the housing shortage. Estimates say the city would need to deliver 100,000 units a year each year for a decade before it actually catches up with this shortage.

We focus on new Multi-Family development projects located in Opportunity Zones. Using local density bonus incentive programs, we are replace the amount of units we take away by adding a 300% more units in each project. We target properties that have the proper zoning and then use the incentives to add up to 80% more density than the traditional "by-right" zoning laws. Our investments are as create market level returns for investors while helping solve one of the most troubling issues in the State of California.